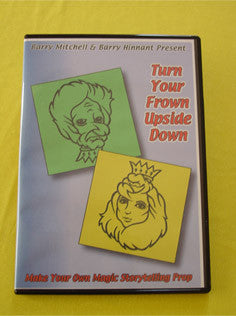 Turn Your Frown Upside Down
Barry Mitchell and Barry Hinnant Present
TURN YOUR FROWN UPSIDE DOWN

The two drawings on the cover of this product show dramatic differences between an old woman and a beautiful young princess. However, look closer and you'll see that both pictures are the same drawing but one is upside down. This amazing optical illusion has been combined with a popular magic illusion to form an inspirational story about positive attitudes. Performer is in control of which picture is seen by the audience at all times. Includes two great stories that teach positive attitudes. This CD rom contains Adobe PDF artwork to make this illusion with your own computer and printer.
Available as CD or Download
---
We Also Recommend
---