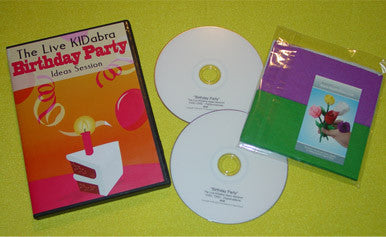 Kidabra Birthday Party Session
Join 20 Top KIDshow Performer's for ideas, tricks and routines. This 3rd official KIDabra release is the live session taped at KIDabra. Filled with a wealth of styles and ideas to get you thinking and working. Hosted by one of the Top Birthday Party Performers in the US: Bruce Bray and directed by David Kaye (Silly Billy). Highlights include:
Trevor Lewis performing and teaching a gypsy thread routine to use with the birthday child. Ken Scott performs his sensational Fantasy Magician. Tips from - Bruce Bray, Greg McMahan, and Eddy Wade are so good that any of these ideas are worth many times the cost of the DVD set.
Barry Mitchell's The Rules and The Ruler, is a new instant classic you can make yourself with a folding ruler and mouth coil. Michael Mode, Napkin Rose fame, shares a terrific idea for involving a sibling and mom at the party with a touching moment. And much, much more!
Special Bonus: Enjoy the hilarious, wild, and crazy Bloopers from the session. (Rated PG) Set also includes FREE napkin rose papers.
---
We Also Recommend
---