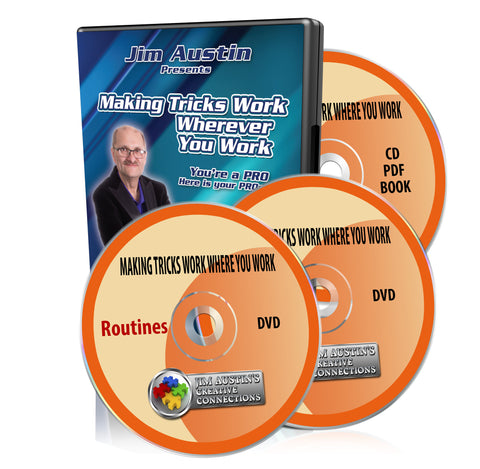 Making Tricks Work Wherever You Work DVD Package
This is my Kidabra Lecture 2015.
Enter the Brain Zone with Jim's Gems!
Making Tricks and Props Work Wherever You Work!
 You're booked to perform for 6 year old Johnny, and his 30 friends.
You arrive armed with your tried and proven children's show, to find your audience is Johnny and a room of adults. Only one child and 30 adults.  
What do you do?
 You've spent 60 minutes setting-up your corporate show and you're now waiting for the employees to arrive. Just then, the door flies open and a hundred kids rush in to fill the floor area surrounding the front and sides of the 12 inch high riser. The client then explains for the first time, that you're to keep the kids entertained for at least 60 minutes, because the adults are in the next meeting room discussing the company's future and their changing jobs.
What do you do?
 Enter the Brain Zone with Jim's Gems! Jim Austin shares a fresh perspective on making your props work where you work! Think through the possibilities, and the process of getting the most out of every prop.  Seniors, Preschool, Adults, and Message - regardless, the show you have already prepared can work for any audience. Discover how thinking differently works where you work!
---
We Also Recommend
---