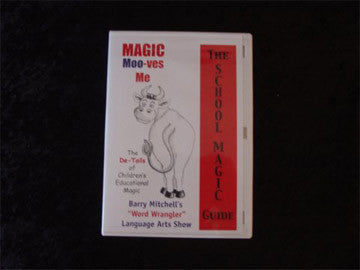 Magic Mooves Me DVD
Magic Mooves Me
The De-Tails of Children's Educational Magic

Saddle up and ride into the mind of Barry Mitchell, one of America's most creative entertainers. You'll see a live performance of the "Word Wrangler" show and go behind the scenes to learn how the show was created. You'll discover tips and secrets of performing on the road. You'll learn the techniques to have teachers and principals praising your work. You'll be challenged to make your programs more creative and imaginative. It's all inside this video.

INCLUDES Performances of the HOT SELLING Effects "Bulls Eye Book" & "Got Cookies"
---
We Also Recommend
---