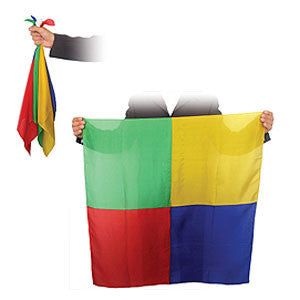 Four Square Blendo
Open with this.....Color, excitement, message possibilities, great connection piece, quality magic.

A sensational effect for all ages....................
Lots of color! Stage size silks with a surprise punch to the routine. Four 18" silks are shown at the fingertips. The ends are clearly shown on each corner of the silks. The magician places his hands together and then apart again as he unfurls all four silks which are now seen to be together as one large silk.  (36 in.)
Comes with 18" white silk and special gimmick...........
---
We Also Recommend
---