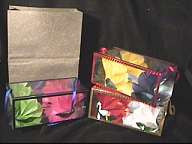 Dream Bag (Jumbo or Standard)
A very effective connection piece for any audience. Use this to communicate a message, my routine included. Produces smiles, joy and gasps from audiences, every time!
Performer shows an empty paper bag to the audience. He reaches inside and removes a red silk. He then removes a clear box containing two flowers. Once again he shows the bag empty then reaches in and this time removes a yellow silk followed by a box containing two flowers. This is repeated a third time with a blue silk and flowers. The bag is obviously too small to contain the three boxes but that's exactly what happens! Each box is approximately 10" x 4.5" x 4.5". This is the original Bag from Japan, not an imitation. Use of silks are optional and none are included.

Available in standard size as well! Choose below.
Extra bags are also available in accessories.
---
We Also Recommend
---